It feels like it's been awhile since I've posted an RCC card and it has been... Oops!!! That's what a flooded basement does for ya. Argh...
We are kind of a silly bunch of girls, and we are also sometimes kind of mouthy to each other, so when Wendy offered up this challenge, it made us laugh.
'Cause we FELT like it – we are challenging you to use FELT on your card or project today.
I know what you're thinking... I went SUPER clean and simple. My story is.... I have a ton of felt but guess where it all is right now? In storage with most of my crafty stuff. I live in a large(ish) city but the only felt you can get around here is the super crappy cheap stuff that doesn't cut nicely at all. So I had to improvise... A trip to Michael's and I had my felt birds. Then.... I was stumped!!! What was I going to do with them?
And then I had my AHA moment... I decided to create a sponged sky background (I know, I know... it's not a great looking cloudy sky... I'm still working on them). And then I used some Black Jute Twine from Ribbon Carousel as the power lines. I then added the birds to the card to make it look like they're hanging out. I've added a sentiment from the TSG set called "Loads of Fun". Gotta love a great pun right?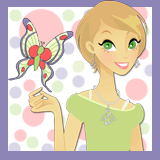 Whimsical Designs is a blog where I do various post a week with projects, crafty tips, and a brand new challenge every Wednesday. I have a new line of stamps made in the USA from the highest quality polymer available on the market. The stamps can be found on her blog under the shop tab.
Stephanie has offered up a beautiful stamp set as this week's prize.

Thank you Stephanie!!
Your creation can be anything from cards, quilts, sewn items, paper crafts, paintings! *** Be sure to have ribbon, bakers twine, jute twine, lace, thread (basically anything that comes on a spool). ***
Thanks for popping in today!!!